Gordon Parks took his self-portrait the hard way. He frames the shot tightly, with the large-format camera on his shoulder and a hand reaching over it to take the picture. No shutter-release cable for him.
The camera, he wrote, was his weapon, and he would not spare himself the weight. Not that he needs to attend to its balance or, for that matter, to the observer. He looks slightly away from both, to concentrate on the task at hand. He has prepared himself well, right down to his hair brushed back, his fine mustache, and the light reflecting off his dark skin.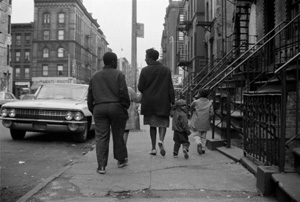 "For I am you," he also wrote, "staring back from a mirror of poverty and despair, of revolt and freedom." Now he stares back three times over, with his countenance, his equipment, and the lens.
The photo introduces work from 1942 to 1978 as the two parts of "I Am You," at Jack Shainman through February 10 and now through March 24. Parks had already turned his weapon against racism and poverty on behalf of the New Deal, and he became known again for documenting the civil-rights movement. At the time of the self-portrait, though, he was working for Ebony and Vogue, and his work in fashion was neither a distraction nor an accident. When he stares, he is concerned for both the camera and the pose. He brings much the same assurance in later years to "Segregation Story" and "A Harlem Family," and I bring this together with earlier reports on both as a longer review and my latest upload. When it comes to conflict and race, has America moved on?
The you of "I Am You," African Americans, got the picture. When he directed Shaft in 1971, they embraced it and the merchandise it spawned. Critics wrote it off as blaxploitation, but its hero did everything with confidence and style. In photography, too, Parks was directing and with much the same values. Fashion shoots look like wedding portraits on Park Avenue, just as Shaft sets its macho stereotypes against a backdrop of Harlem streets. Portraiture veers easily into fiction.
Ingrid Bergman occupies a tenuous middle ground with three darker women behind her, as if she had broken away from a cult. Alberto Giacometti poses with his gaunt, slightly comic sculptures as if one of them. Park even stages a fashion shoot. A white woman photographer, splay-foot but attractive, leans into her camera, framed by an alleyway. She would, though, be seeing not just her model, but Parks as well. The inscription on Hunter College behind her could be speaking of him, too, beginning "We Are . . . Different."
The confluence of fashion, portraiture, and self-expression puts Parks in the company of Richard Avedon and Irving Penn—much as his work for the New Deal puts him in the company of Dorothea Rockburne and Walker Evans. He avoids, though, Avedon's celebrity aura and pretence of frankness. He avoids, too, Penn's perfection even when the models are cigarette butts. Rather, he is telling stories about politics and art, with style. He also takes to color early, like William Eggleston or Stephen Shore, but again staged for the camera. He sees landscapes through red and green filters.
Ever the director, he attends to the backdrop and the frame. Helen Frankenthaler sprawls on her studio floor, dwarfed by her paintings. Langston Hughes holds up a hand to the center of a picture frame—presumably his writing hand.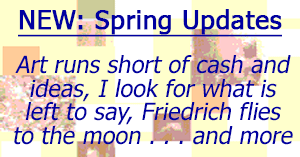 Parks also makes use of subordinate actors, much as with Bergman. A little girl slumped on a chair in shallow focus can barely tolerate the photograph, but two others pose eagerly, in front of a fancy car. Martin Luther King, Jr., stands between two compatriots as well, because leadership for him can only bring out the dream in others.
Such groupings can become a mass movement—even before Parks turns to sweeping views of the March on Washington in 1963. Nuns move in a triangle, with the momentum of an arrow, and men display their aspirations through their hats and shoulders seen from above. Others come together through just bare shoes at the sidewalk's edge. Harlem sewer pipes pile high. They transcend whatever filth lies in their future, for they, too, are you. Parks sees individuals in context of a movement and a movement through individuals, all the more so in the show's continuation, with the civil rights era and his most memorable images.
He learns to dignify his subjects without glamorizing them, although his Rosa Parks will look eternally young. That can mean blacks submerged in shadow—or popping out of a manhole as Emerging and Invisible Man. More often, though, it means children at play or adults at work, like a cleaning woman wielding her mop and broom or Stokely Carmichael at his desk from behind. It means families in their Sunday best at a "coloreds only" drinking fountain or, more poignantly still, the caretaker of a white child as the only black person in a doctor's waiting room. It means black faces behind white mannequins, or children behind barbed wire. Those images, though, also belong to the photographer's segregation and Harlem stories, so my longer review must turn there next.
Read more, now in a feature-length article on this site.