Stormy Weather
John Haber
in New York City
The Civil War, American Art, and Hale Woodruff
A storm was gathering in America. Martin Johnson Heade painted Approaching Thunder Storm in 1859, when those anxious for the future might have envied his quiet brooding. Once one notices the confluence of the painting's title and date, their association is inescapable.
What, though, if Heade dreamed not of politics, but only of the lake and sky? What if he meant landscape not as prophecy, but as a destiny shared by all Americans, in war and in peace? One could ask much the same about art and the American Civil War. Now the Met displays paintings from Alaska, South America, and the American west as well as the Union or Confederacy. It shows how photographers, too, created both a record of war and a new way to preserve its memories for the living. Yet another room holds related prints.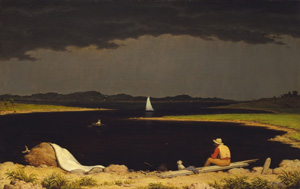 Painters, the Met argues, were as much a part of the gathering storm as anyone. They served as journalists and in combat, and the Civil War in turn shaped their character and their art. And photographers were with them, starting with the father of photojournalism, Mathew B. Brady. Together, they follow a narrative of fear, dissolution, and redemption. What, though, if art did not simply create meaning but took on meaning in the headlong rush of events? What if artists were caught up in their time more than they ever knew?
Of course, history painting has a history—a history of thinking in black and white. And when an African American undertook six murals for Talladega College in central Alabama, beginning in 1938, how could he not? Hale Woodruff believed in heroes, so many that no one great figure can claim the spotlight, and it makes for a fascinating history all the same. As seen this same year at New York University, he told of a slave revolt, on the Amistad in 1839, and the trial that ended in freedom and repatriation to Africa. He told of the Underground Railroad, with a black hand ripping down a reward poster for runaway slaves, with shelter close at hand, and with the state line just half a mile away. He told of opening day at the college, the enrollment of black students, the books they studied, and the building of a library devoted to the awful reality of slavery.
Caught up in their time
The question of art and war has fresh relevance now, for art after 9/11. It also makes for two fascinating shows (neither in the renovated American wing). Martin Johnson Heade opens "The Civil War and American Art" along with other paintings on the very same theme. And the works continue well after the war, but with its divisions hardly left behind. "Photography and the American Civil War" goes further still into the lives of ordinary soldiers and the cost of battle. Once one sees the two shows together, the Hudson River School and an expanding nation have to look different.
Artists cared about events, feared them, and profited from them—and George Caleb Bingham even ran for Congress. Eastman Johnson turned a slave couple's ride to freedom into a dark Romantic vision, while Edward Lamson Henry made the commissioning of a black regiment into a display of pomp, circumstance, and union. Never mind that whites fearing the draft were more than happy to see them leave. Frederic Edwin Church made the very first painting acclaimed as about the Civil War, an American flag emerging in tatters and in glory from a fiery sunset. He also had no compunction about retitling his Alaskan landscape, first to celebrate the North and later to exhibit it to southern sympathies in England. He was caught up in events all the same while defining a nation.
Much of both shows takes place at the front. Winslow Homer got his start there, on assignment from Harper's. (Edward Hopper later illustrated for the same magazine, and that work, too, helped determine his future.) Sanford Robinson Gifford joined the Seventh Regiment, whose armory these days serves art in a tackier way—for the art fairs or for installations by Tom Sachs, Peter Greenaway, Christian Boltanski, and Paul McCarthy, to name just a few. Timothy H. O'Sullivan fought as a lieutenant and, after discharge, returned to battle as a photographer for Brady. Alexander Gardner competed with Brady's studio not on his own, but on the staff of General George McClellan.
They faced slavery, at a time when even northerners had little shared experience with African Americans. Church painted a black man and a white woman united beneath a natural bridge, while Homer and Johnson depicted black soldiers with dignity and empathy. Johnson painted a homestead in which even the banjo player is no Stepen Fetchit. He captures the complexity of life in poverty, as well as the complexity of black America with a striking variation in skin color. The sole white women here may not be white at all, but either way she is the intruder. So for Homer is a former slave owner painted after the war, obliged to negotiate for help but unable to offer true acknowledgment or warmth.
Homer asks about the potential for a shared destiny. He shows troop movements within firing distance and within hearing of the same music, the longing of Home Sweet Home. He is least optimistic, in fact, after the war, in recalling a Union general with his prisoners. The handsome general looks in command, but the prisoners plainly will not be commanded. From cocky to ragged, they look like an audience for country rock today. Red and blue states are not getting any closer either, in an electoral map or in Congress.
And then there is what painters leave out. For the most part, they leave out the Confederacy. They have to, because the South lacked not just an economy able to support a truly southern art, but also the academies and cultural centers that taught and nurtured it. Homer again stands out, for his clarity, empathy, and proximity to the action. Conrad Wise Chapman's small paintings are mostly forgotten—despite a shorthand notation that, in the hands of a finer artist, would have become natural light or expression. Still, Chapman had joined the rebels, and he captures such details as Charleston's fortifications under heavy shelling and a torpedo boat, which or may not have done much damage to the Union fleet.
The cost of war
They mostly leave out, too, the cost of war—although Homer feels it in the deep blue of a sniper in the trees, so close that one can almost take his place as a killing machine. In part, they leave out death because they hardly fought. Gifford's regiment mostly patrolled Maryland and northern Virginia, returning to New York in savage response to the draft riots. Yet their reticence also speaks to the novelty of warfare in which a distant puff of smoke could bring disaster. They also focus on the living because they refuse the false grandeur of history painting, with its crystal clear winners and losers. "The real war," Walt Whitman wrote, "will never get in the books," but it did get into art.
Photography fills those gaps and more, just as for Bettina WitteVeen looking at war today, and it is startling. It shows the ruins of southern cities—and one after another field piled closely with the dead. It benefits from the perspective of outsiders to a torn nation, with Gardner born in Scotland, O'Sullivan in Ireland, and Brady of Irish parents. They had not been nurtured on artists and America as Kindred Spirits (in the title of a painting that the New York Public Library, ironically, sold to a southern museum). They brought a whole new medium, one so capable of spectacle that the dead appear in stereograms. They also had a new audience for commemorating the living and dead, through locket portraits of soldiers sent away.
The Met includes eighteen additional photos along with a modest sixty paintings in the Robert Lehman Wing, despite separate shows for photographs and, coming up, for Carleton Watkins in those same years in the American West. They could be chastising art for shying away from reality, but here, too, things get messy. George N. Barnard moved bodies to restage the face of death. Photographs also hew more than paintings to academic portrait traditions, right down to the proud display of soldier's weapon. Still, nothing comes closer to conveying the sheer magnitude of this war on American soil. Much of Homer's gift, too, lies in caring more about people and passing moments than the soil.
The Hudson River School did care about the soil—and not just as a metaphor for war and peace. The Met ends with large paintings, including some rarely seen in New York. The curator, Eleanor Jones Harvey of the Smithsonian, manages to pair two scenes of Newport's Paradise Rock by John Frederick Kensett, from before and after the Civil War, as morning sunlight gives way to the approaching chill of winter. Still, the Met wants to have it both ways. When the postwar sky has a rainbow, it sees reconciliation and a new Eden, and when the earth darkens, it sees a legacy of division. It never fully speaks to painting's sublime ambitions.
I had been reminded so often of Heade's significance that I had long taken it for granted. The shows took me by surprise nonetheless. The state of photography alone surprised me—but then, too, I first grew to love that painting as an image of contemplation and peace. The man seen from behind, seated by a lake with a dog, makes me think of Henry David Thoreau at Walden Pond, finding transcendental meaning in small, regular work on the land. Maybe Huck Finn out for a lark rested on much the same plank. Storms gather and depart, but America took them as theirs.
These painters had a relation to the land, as more than a weekend outing for the leisure class. They could paint storm clouds, because they felt a continent unfolding before their eyes. Try to imagine Impressionists without sunlight or an umbrella. Heade is atypical in foregrounding a person, while lending water and sky contrasting blacks and colors far from deep space and natural light. He is less a storyteller than a visionary, part of what the Met itself in 2004 called "Hudson River Valley Visions." One can trace the sad legacy of civil war, racism, and a gathering storm to the political landscape now.
History in black and white
History painting almost demands certainty, plus an artist confident enough to make history. It can tell of the noble sacrifice or the birth of a nation, like the death of Marat or the triumph of Napoleon. Never mind that Jacques-Louis David had betrayed his French republican principles in getting from one to another. It can claim the weight of history, like Diego Rivera in drawing on Renaissance models, and Hale Woodruff visited Mexico in 1936 to learn how. It can claim the passions of the many, like Thomas Hart Benton. Woodruff's canvases run to much the same hard edges, crude highlights, bright clothing, bare muscles, and crowded compositions.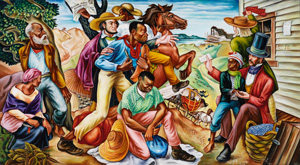 The Mutiny on the Amistad recalls perhaps the most famous history painting of all, The Raft of the Medusa by Théodore Géricault. The ship angles across almost twenty feet against a seething gray-green sea. Still, a moral is surprisingly hard to find. The slave revolt makes do with trowels and meat cleavers, with seemingly no one in the lead. One white man's terror stands out against the reddish brown of the mast, and another white man's hat all but serves as a martyr's halo. This is heroics as mass murder—in an unflinching account of horror and hope.
The Talladega commission must have demanded a meeting between the races, as part of the school's mission, but it came naturally all the same. For Woodruff, the greatest courage lies in a quiet dignity, like the black man at the center of the courtroom. The painter shows it himself in a photograph, holding a large palette and hardly breaking a sweat. He demands it in his most didactic series of all, on good and poor housing. The beneficiaries of the first work and play hard, while the victims of the second laze about or hide behind a tree. A woman's portrait from 1935 conveys not erotic charge but intelligence and intimacy.
Woodruff thrives on confrontations, but as meetings between souls determined to find one another and to be found in exchange. Even on the Amistad, at the moment of death for one, black and white meet face to face, each with his own humanity. At the trial, accused and accuser stand too far apart for tawdry drama, while others whisper together, in tight rows not in the least segregated by race. Black and white play their part together on the Underground Railroad, find salvation on the shores of Africa, meet across the table for incoming students, fight side by side under Andrew Jackson, and labor together on the slavery library. A black and brown steer stand yoked together, although no amount of labor will erase the past, not even today. As Woody Allen says, the lamb and the lion will lie down together, but the lamb will not get much sleep.
The murals have come to New York, along with two dozen other paintings and a handful of prints, on the occasion of their conservation. Not that they hang together. Rather, they fit where they may. They make one long to see the series side by side, just as one longs to see Benton's AXA murals reunited or Rivera's destroyed frescos for Rockefeller Center brought back to life. They fill a serious gap, in the histories of both the American modern and African American art. They also reveal an artist at once too didactic and too accommodating.
Born in 1900, Woodruff traveled to Paris, where he painted landscapes after Paul Gauguin and Vincent van Gogh, but with more sober lighting and static rhythms. He tried his hand at linocuts, with the harsh edges and skies of Edvard Munch, Munch prints, and German Expressionism. They convey the blunt wood of rural homes—and yet here, too, Woodruff leaves the visionary turmoil of his influences behind. He lacks the very flaws that bring life to Rivera or Benton, in their anxieties for meaning, sex, revolution, and the future. He offers instead local color and the promise of reconciliation, and he has a gift for both. This once, though, an artist brought too much sanity to racism in America and to his art.

"The Civil War and American Art" and "Photography and the American Civil War" ran at The Metropolitan Museum of Art through September 2, 2013, Hale Woodruff at the NYU art galleries through October 15. Mathew Brady indeed spelled his name with only one t.