Night in the Museum
John Haber
in New York City
Francis Bacon
In Three Studies for a Crucifixion by Francis Bacon, no one and everyone is on the cross. Each panel, as the title suggests, may show the same room. Its oval and red walls hint at decorative luxury. Its vomit-yellow carpeting terminates in the dark yellow wainscoting of period England. Repeated across three panels, the room could easily mark an estate.
It could also mark a museum. Museums used to affect these lavish tastes, before Modernism's white cubes, and still may today in much of England. Those black rectangles in place of doors and windows could be the paintings. The towering side of meat at right could be sculpture. The grisly, contorted nude on a couch at center could have come right off the wall. Two men in the middle ground at left, cautiously edging their way toward the center panel, could be trapped in the museum at night.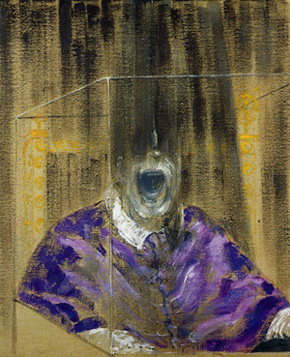 That pretty much describes, too, the experience of a Bacon retrospective. It also describes the experience of art for Bacon. He had no sympathy for Modernism, but he felt cut off from the past. He could not or would not train academically, in a country that clung to academic standards, but he could not help judging himself accordingly. He paints revulsion—against fine art, against the flesh, and against himself. As in Three Studies for a Crucifixion, even the dead are dying.
Biography of a slow death
They can take their time doing so. Critics vilified his early work, from the 1930s. And in his usual mix of loathing and self-loathing he burned it all—except for a single Crucifixion. By his death in 1992, at age ninety-two, he had become England's modernist old master and the leader of what R. B. Kitaj dubbed the School of London, with two Tate retrospectives in his lifetime. Robert Hughes can champion him, while expressing Hughes's own revulsion at the work. Most people will know Bacon's Pope Innocent X better than its source, a portrait by Diego Velázquez.
In that early Crucifixion, he sketches Jesus in quick, white curves like a stick figure. Yet he gives it a solid cross with a traditional footrest, like a sculptural base. In 1944, with Three Studies for Figures at the Base of a Crucifixion, he already aspires to a triptych. What Bacon gives to art history, he takes away and then gives back again. He often lives much the same way, on a mix of art and petty theft. He drifts to and from Europe, barely getting by.
In his next work, he sticks to heads rather like cows and to half figures in a dark, shallow space. It is again the space of inexplicable torment, and it is again the museum. Hints of a box enclose the figures. It could stand for a jail or a witness stand. A homosexual then faced criminal charges. It could also stand for the glass case for sculpture in older museums.
He has discovered Pablo Picasso. Naturally he interprets Cubism as distortion, and naturally he loves it. He has also discovered his most famous subject, the Velázquez portrait in Rome's Galleria Doria Pamphili. Bacon depicts the pope screaming over and over, to the point of self-parody. Sometimes the picture plane forms vertical stripes or a kind a veil across and through the figure. It, too, is a kind of dismemberment and confinement.
Bacon has a new lover in the 1950s and early 1960s—and his most intense work. It includes Three Studies for a Crucifixion, from 1962. It includes a sudden burst of color into drawing, in an imitation after Vincent van Gogh, whose free charcoal strokes also influence a painting of a baboon. This lover dies of various forms of self-abuse. The artist starts over, while he returns to the same compositions. In the late 1960s, again with a new lover, Bacon finds a larger scale, calmer colors, and a kind of openness.
His subject, however, remains harsh. When this lover dies of an overdose, the artist finishes his career with an extended memorial. It may signal a final repose, a well-earned simplicity, or more glib repetition. A shadow or a bloodstain may interrupt an open expanse. A repeated head may seem to melt. And it, too, is likely to form a triptych—displayed, as always with Bacon, behind museum glass.
Tiptoeing around Modernism
None of this may mean much to Americans. It can seem like internecine warfare in a country that never quite got it. Margaret Thatcher still considered Bacon's art immoral, and she might have had second thoughts about William Blake as well. By her time, too, it had become modern. Even now, one can see critics straining to be fair—and to tiptoe around his relationship to Modernism. I am doing the same thing.
A magazine profile evokes the psychic drama of Bacon's homosexuality. It also describes the art as "cartoonish" and the late work as worthless. A newspaper review seems to defend it, but the reviewer repeats several times that she must withhold judgment. "You may love or hate his work," but she has a job to do in describing it. Another critic says at the start that he will stick up for American art. Then he qualifies his account to the point that neither nation is a winner.
The Met and the Tate, which together originated the show, strain in order to boast. Gary Tinterow, the Met's curator, compares Bacon's flat colors to Mark Rothko. Bacon did much the same thing, although without mentioning Rothko. In his Heads from the 1940s, he said that he was exploring every shade of an open mouth. In practice, they all look slate gray, and the edges of the canvas look emptier still. Color interrupts at last, all at once, in the rich purple of the papal cloak. Even then, it enters as symbolism rather than as formalism.
The Irish-born artist truly belongs to England—along with what Jed Perl, ever the angry conservative, calls his "literary sensationalism." It echoes his lifelong status as an outsider. If he had a breakthrough, most would name Painting of 1946. That work gives flayed flesh the outstretched arms of a Crucifixion. In front of it, the misshapen man carries an umbrella. René Magritte would recognize him as a Londoner.
Modern art did not have to fuss so much over the past, or did it? It could break with art history, as with the Futurist manifesto, without looking back. It could appropriate the past tenderly and mournfully, as with Joseph Cornell. It could parody the past joyfully, as with Dada. It could claim its inheritance from the Louvre and Nicolas Poussin, with confidence, through Paul Cézanne. It could also descend into violence, especially in performance.
By the same token, Bacon has an ironic heritage today, now that the struggles are past. As Roberta Smith notes, the Young British Artists are incomprehensible without him. For Tracy Emin, her whole life is about sex in the meat market. The late Picasso, too, struggles with Velázquez. And then Martin Kippenberger ends his short career with self-portraits after Picasso. Where Picasso looks quizzical, weary, or jaunty, Kippenberger looks simply in ruins—like a head by Bacon.
A revulsion at art
Bacon has managed to become both postmodern and quaint. On the postmodern side, he is tailor-made for Julia Kristeva and her Powers of Horror. Kristeva, a philosopher and psychoanalyst, could have captured his revulsion, with what she calls abjection. She describes it as a condition of the marginalized, outside the "symbolic order" and before words. She also considers it central to art, much as for Antonin Artaud's "theatre of cruelty." Early on, Bacon in fact devoured an ancestor of her canon, Nietzsche, and he liked to say that he painted meat because it is beautiful.
One might, I hope, refuse to accept revulsion—or Bacon's life—as a given for homosexuality. He may have hated himself, but he knew what he was doing. In a photograph of 1951 by Cecil Beaton, he shrinks back against a wall of framed art. He looks like a figure out of Magic Realism or a slightly puffy William F. Buckley. A notoriously charming bully, he is going along with the game and creating the illusion. And yet he means it, too.
He paints Velázquez from postcards, many of them. Even when he is in Rome, he avoids seeing it in person. He never paints from life, and the Met supplements its sixty-six paintings with a packed room of photographs. As usual, the loathing cuts both ways. Is he refusing academic tradition, or is he unable to deal with the flesh? Art history is dead, and nothing else will replace it.
It is clearly a place of confinement. In Three Studies for a Crucifixion, its shape and colors press in. The right panel has no windows all—just an extra partition and, behind it, a circle of bones on the floor. Alternatively, that partition could represent another sculptural display case and another enclosure. Sides of meat or perhaps fighting dogs, flatly painted, press against the picture plane at left. Another shadow laps up from the bottom of the picture plane at right.
The scene is also the place of art. Despite the title, one can see the three panels as a single drama, like a Renaissance triptych. The figures at left face toward the center, like disciples at the foot of the cross. Even so, they follow ambivalently. They may sneak about, and they refuse to swoon. Bacon has also displaced the closest parallel to a Crucifixion to the right panel.
The two men at left could stand for him and a lover. Bacon is furtive and trapped, but also desperate to enter the main action. The man behind him hangs back, his arms thrust out. Is he impatient, defiant, or just a thug? He does not notice that this brings him in closer parallel to the meat. Bacon is drawn to both and in revulsion at both, and no one can appreciate his revulsion but himself.

"Francis Bacon: A Centenary Retrospective" ran at The Metropolitan Museum of Art through August 16, 2009.