Unerasing de Kooning
John Haber
in New York City
Willem de Kooning at MoMA
Abstract Expressionism was a matter of life and death. Well, everyone said so.
It gave immigrants from war-torn Europe a place for their memories, and it put American art on the map. It gave abstract art and painterly impulse a historical necessity and a mural scale—with titles like Onement, Elegy to the Spanish Republic, or Vir Heroicus Sublimus to match. At least three lives ended in suicide or in an alcoholic's reckless collision. At least three careers settled into black. The best-known supporter believed that art had found its definition and fulfillment, and rival critics merely haggled over the terms. The first decisive break with Abstract Expressionism came by, physically, erasing it.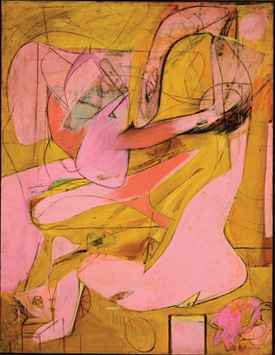 And then there is Willem de Kooning. His retrospective shows him breaking every rule over and over, but mostly his own. It shows him courting controversy and grateful for collaboration. It shows him at ease with the hallmarks of Postmodernism—including commercial art, newsprint, irony, repetition, and contradictions. It shows him grappling seriously and sympathetically with female self-expression, but as part of a womanizer's and heavy drinker's embrace of pleasure. And that combination could make him the ultimate Abstract Expressionist for a new century.
From apostate to role model
Anyone could tote up everything that de Kooning did wrong, and often they do. He was the immigrant who never despaired and never looked back. He was the abstract artist who could not put representation behind him. He was the painter of blackness who embraced first white and then color and then white again. He was the drip painter who never abandoned the brush or the easel, the portrait painter who could not resist a joke, the landscape artist who could not resist flesh, and the survivor with Alzheimer's who still tried to capture form and pleasure. Oh, and when Robert Rauschenberg came to him for fodder for Erased de Kooning, he would not let the young man leave without a drawing truly worth erasing.
He annoyed everyone, except maybe those who collected him, drank alongside him at the Cedar Bar, or followed him to the Long Island shore. The retrospective makes it clear how many those always were. For once, one can see entire series, including three close versions of one Woman and all six of another. For the first time, a show takes up MoMA's entire sixth floor, opened up a bit to adapt better to large work and sudden changes—including a rarely seen blow-up of a painting from the 1940s to a stage set for modern dance. Two rooms have to remain as alcoves, one for the turn from black to white and one for the foray into sculpture and Clam Diggers, and one gets to decide whether to think of them as critical to consolidation and change or as dead ends. Even with almost two hundred works, the museum resists puffing it up with too many drawings or too many late paintings, when a bad choice can cause serious trouble.
It should still help one remember the controversy. With his turn back to painting women in 1952, supporters did feel betrayed, and the Modern shied away from collecting him. For those who despised Abstract Expression for its misogyny as well as its formalism, that turn only confirmed the oppression, as did his daughter's troubled adulthood. The late work stands accused of vapidity, senility, and assistants. Sculpture truly was a collaboration, after de Kooning met someone who knew bronze. And he suffers for it, generous to a fault.
The show confronts all that, to almost universal acclaim. Timing has to help. This is a decade not of definitions, but impurity. The confusion between abstraction and representation empowers women artists like Sue Coe, Sue Williams, Amy Sillman, Carrie Moyer, Joyce Pensato, and Ethel Lebenkoff—and they can now seem his heirs. Mary Heilmann has reintroduced curves, along with titles that practically sum up de Kooning, like Sea of Joy. The last work feels like his in its very emptying out, first to broad primary colors and finally to deftly doubled curves against white.
Then again, maybe the acclaim exaggerates the news, because it forgets what was visible from the start. Six years back, a stellar biography by Mark Stevens and Annalyn Swan arrived after a top gallery's "retrospective," and MoMA itself saluted de Kooning's last decade in 1997, only seven years after his death. (I am trying not to repeat past reviews and failing now and again, although self-quotation could work as a tribute, too.) Just this year, the Modern returned to "Abstract Expressionist New York," with the artist at the center of a renewed interest in narrative and human flesh, ending with Philip Guston. Rather than rescue the movement's "second banana," a retrospective should be a chance to remember its impurity all along.
Painting from Life
Modernism was never a banana republic, and de Kooning was never exactly a model citizen. Born in 1904, he entered the United States illegally, jumping ship in Richmond in 1926. He was not fleeing oppression, and neither political nor childhood themes turn up again. That only makes sense. He was a child of divorce and cosmopolitan from the first, studying commercial art in his native Rotterdam and academic art in Belgium. In New York he sought work on WPA projects and store windows, drawing a tobacco ad for Life as late as 1942.
He had the chops, too. MoMA includes a still life from age 12, with a matchbook angled in the foreground to add color, scale, and freshness. A Dutch master would appreciate the patterned cloth behind the table, but so would Paul Gauguin. As it happens, Stuart Davis, one of his favorite artists, later slips a matchbook into Cubism. A drawing of his future wife, Elaine, is delicate, detail oriented, intelligent, and sexy. One can recognize her eyes in de Kooning's more outrageous women for years to come.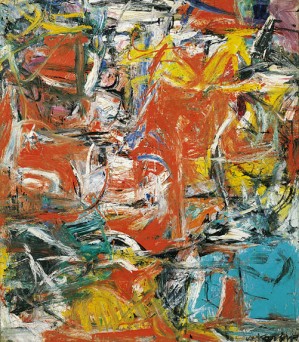 He certainly did not see abstraction as a necessity—or as all that abstract. Elaine was just part of his discovery of the body, thanks in part to another role model, John Graham. The Russian-born artist shows especially in the men, like a clown whose occupation is visible only his long nose and awkward solidity. Yellow or pink backgrounds relate to expressionism, but they also transfer human substance to the space of a painting, and it never, ever left. The nude did not mean a reversion to academic rigor but disciplined modernization, culminating with Pink Angels in 1945 and a sharp turn to abstraction.
It began with Black Friday, a title that announces both tragedy and a long weekend. White invades interlocking black tiles reaching to the edge, with a rigor that made de Kooning a hero. He had adapted all-over painting and impulse from Jackson Pollock, black totems from his drinking buddy, Franz Kline. He had also reversed them—with white drips in place of black, gravity that drags them down the easel rather onto an expanse of canvas on the floor, an air of claustrophobia and none of Pollock's struggles with shyness and Surrealism. A house painter's enamel eliminates storytelling along with color, but he was just having his first solo show. By then he was already in his mid-forties, still poor, and already reflecting.
He lived to paint into the 1980s, but the few years after 1948 mean so much because of their gravity and reflection. With hope now of exhibiting, he can take time to work, but the work comes slowly. He teaches for a term in North Carolina, and one small canvas takes him two months. Figures come and go, with almost cartoon outlines, culminating in the semicircle of Attic and then his largest easel painting, Excavation. A skull may rest in a corner, as perhaps another reference to Jesus at Golgotha, but no one is there to claim in. Oil and color mix in with enamel, and one can see that the flesh was there all along.
For all the stuff in the attic or awaiting excavation, the work brings a new openness and ambiguity. White on black becomes black on white, and color hints at pleasure. The semicircle could be in conversation, like Attic philosophers, and at least one man may be smoking a comically long pipe. The slippage between animal, vegetable, and mineral learns from another friend and role model, Arshile Gorky. One small painting has the earthy reds of Gorky's Agony and the fluid curves of Garden in Soshi, but without the agony or the memories of home. All it needed was women.
Women or landscape?
He had come to a dead end but also a pattern. Every time de Kooning gets stuck, he shifts back between representation and abstraction, part of his great influence on John Chamberlain. And each time, he gets to smile at how one was repressing the other all along. He pulls off his largest women between 1949 and 1950, with the most violent expressions of his life. Sweeping curves leave them laughing or in convulsions, angry or forcibly raped, and setting three of them side by side makes them that much more perplexing and self-assured. Big breasts compete for attention with big eyes.
Critics saw Women I as a betrayal, but it marked yet a third series of women. A fourth was to come with wiggly standing nudes and sculpture in the 1970s. Flesh and blood are there in the overlapping shards of abstraction, too. Yet nothing carries the power and betrayal of the early 1950s, poised between misogyny and self-deprecation. Those wild eyes could be staring Clement Greenberg down personally. Those hips detach themselves entirely from a critic's demand for "flatness."
The puns sure do not fit with his version of Abstract Expressionism. A necklace copies the teeth in a smile, as if that much more ready to bite. The whole idea of copying refuses any separation between fine art and kitsch. The humor also does not fit with the ideal of "action painting." Photos by the entrance at MoMA show how drastically and often de Kooning changed his mind, and he is more and more is willing to trace one image onto another. He even starts to cover wet oils overnight with newspaper, so that he can revise them again the next day.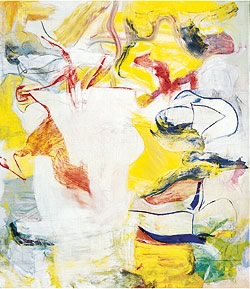 He had made the first Pop Art years before its time. The final brushstrokes and fields of white are not all that far from Roy Lichtenstein, and one of them belongs to Jasper Johns. He gave up commercial work in the first place not out of disapproval, but because he had a life to live. Right after the nastiest women, in fact, de Kooning doubles back to his richest color and calmest abstraction. If the process occasionally leaves newsprint in oil, he insists that he has no interest in appropriation.
He can, though, still see two things at once. The move to Long Island means success and creature comforts in place of poverty and sexual combat, but it also blends abstraction with landscape—from suburban parkways to the sands at dawn. Awful as the Clam Diggers mostly are, they preserve body fragments as tabletop sculpture. And then, senile or not, he has the sense to set them aside for good. When he welcomes Rauschenberg and keeps him in the studio, he could be showing his sympathy or relishing the unknown artist's discomfort. He could also be arguing with himself.
The retrospective has good timing in another way. Many of the critics who have returned with surprise to de Kooning also praised shows of late Picasso. If Pablo Picasso long stood accused of sentimental facility bracketing a few good years of Cubism and collage, de Kooning had his brief conversations in black and white. Both, it seemed, had foundered on sexism and women. And both can hit you hard with their empathy, their humor, and their constant innovation—to the point that you mistakenly forget the problem. Picasso always believed that he had invented Modernism and always cared that he had rivals, as he did, while de Kooning would have welcomed an argument and a drink.

"Willem de Kooning: A Retrospective" ran at The Museum of Modern Art through January 9, 2012. A related article surveys his career in a review of a 2004 de Kooning biography.