Taking It Easy
John Haber
in New York City
Michael Hurson and Laura Owens
Michael Hurson and Laura Owens have it easy. Dancing eyeglasses and idle hands lazing across five a dozen clocks. Private pools and well-furnished bedrooms. Intimate friends and fairy tales.
They also have serious claims for painting. Like artists before them, from Henri Matisse to Pop Art, they ask to strip representation down if not to pure painting, than to pure pleasure. Hurson did so amid the New Image Painting of the 1970s, Owens amid the eclecticism of art now. She even refashions a museum on its behalf. Can they have it all?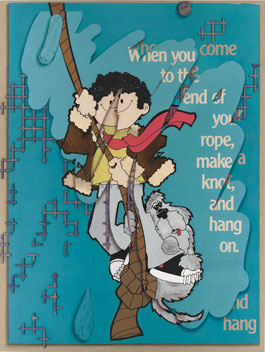 One for the deep end
David Hockney was not the only artist entering the 1970s by poolside. True, he was swimming in attention, while Michael Hurson had yet to make a splash. Hockney had also come to California from a seamy but swinging scene in London, while Hurson was from the Midwest, native to the unfulfilled promises and turmoil of America in the 1960s. His colors are earthier or just plain absent at that, with nary a watery blue in sight. Paintings look much like sketches, with firm indications of place and sunlight still to come. Yet he, too, was having fun.
He could always count on himself to get up and dance—or, if not, on his eyeglasses. They move across schematic but fiery landscapes, several pairs at a time, and down a pillar-shaped canvas. They stand in quite well, thank you, for academic nudes as the artist, then entering his thirties, no doubt could not. One might take their side pieces for legs and their frames for musculature. They turn their lenses on nothing in particular, least of all the viewer, but they earn a second look. They could well be about the space between looking and acting.
They and the Palm Springs swimming pools placed Hurson at the forefront of New Image painting, like Susan Rothenberg or his friends Jennifer Bartlett and Robert Moskowitz. He had already had solo shows at the Museum of Contemporary Art in Chicago and MoMA when he exhibited with them at the Whitney in 1978. Those pools and dances are (if you know Bartlett) his Rhapsody. He has, though, sunk more into the past, and one can see why. A show spanning thirty years clusters near its start, as curated by Dan Nadel. It also had me thinking of the problematic brilliance and shallowness of Hockney.
Like Hockney, he never verges on Minimalism or darkness like Rothenberg or Moskowitz, and he never explodes across a room like Bartlett or teases apart the sheer possibilities of painting. Yet both have a teasing emptiness. A single figure lies on a blanket to the side, as if unable to enjoy a dip or a deck chair. The pool takes on a peculiar mass, like a truncated pyramid. Like Hockney, too, Hurson keeps looking away to distant mountains. A drink and cactus in the foreground of one chasm parallels the Brit's still-life with landscape in homage to Japanese art.
Like Hockney as well, he found a supporter in Henry Geldzahler, the curator, but he grew closer to Modernism as Hockney never could. A third series contains portrait sketches with a flatness and density akin to Cubism. The eyeglasses as bulky nudes may deserve comparisons to Henri Matisse and Pablo Picasso after all, although the swimming pool lacks for bathers. They could offer a bridge from the early twentieth century to Pop Art. The show ends six years before Hurson's death from heart failure in 2007, at age sixty-five. One may never know whether he was every quite ready to dive into the deep end.
As the show opened, the gallery's space across the street was exhibiting a younger artist who is. Cecily Brown again packs quotations from art history into a contemporary Abstract Expressionism. Can you spot the borrowings from The Raft of the Medusa by Théodore Géricault? Me neither, but an enormous mural has everything else you might wish, including faces, bodies, and shards of color. It and other paintings look brighter than humanly possible with barely a hint of red or blue. Like Hurson, she keeps the threat of water at bay.
The end of her rope
Laura Owens takes the museum's proverbial white cube literally, and paintings wrap around the top. In one painting on each side, a single hand sweeps along like a clock that has lost track of everything but the seconds. The rest might be counting off the hours more figuratively, even if having fifteen rather than twelve in each row disrupts space and time once again. Another partition cuts off all but the top of a few more rows on a back wall. Sneak into the narrow corridor behind it for the rest, should you dare arouse a museum guard's vigilance. Two more paintings face one another as mirror reflections, give or take the artist's imperfections.
Still another installation treats its paintings as bedroom furnishings, with a painted couple in bed hung just around the corner. Given three beds, five dressers, and two bedroom mirrors to multiply them, this would be quite a slumber party. Jorge Pardo, her boyfriend at the time, contributed the stiff and seemingly mass-produced furniture. And then there are the paintings within rooms within rooms within paintings, like the one with an easel and a perspective onto other galleries at back. Either this imaginary museum welcomes copyists, or Owens has enlarged her studio. She does so implicitly every step of the way.
Owens pays tribute to a great museum. Still cherish the moveable walls and flexible galleries of the old Whitney, on Madison Avenue? The 2015 architecture by Renzo Piano extends them to larger spaces downtown. Now the Whitney brings them to a midcareer retrospective spanning much of two floors. And yet Owens began her paintings more than twenty years ago, and she and the walls are still on the move. Do not believe her one minute when she says that she is at the end of her rope.
Despite all appearances, her retrospective is anything but site specific. The curators, Scott Rothkopf with Jessica Man, base its rooms on her past shows—and that painting of a museum, first exhibited in London, contains her distorted memory of the Art Institute of Chicago. She plays freely, too, with boundaries in taking Minimalism's grids into wood slats that may extend beyond a painting's edge. She plays just as much with memory, with a style out of children's books and subjects out of the lives of her children. Her son contributed a homespun fairy tale to four freestanding panels. As a likely museum first, she brought her little girl to the press preview.
The seeming childishness extends to mythic lovers and warriors, nature scenes, and slapdash abstraction. And the overt sophistication extends to the illusion of thick brushstrokes on classified ads—or knots of paints that stand for birds and bees. Owens has lived in LA since attending Cal Arts, where John Baldessari made conceptual art the order of the day. She reasserts painting, in accord with its revival nowadays (like her appearance at MoMA in "The Forever Now"), but conceptualism is still on her tail. It follows her even to the naïve and the painterly, like the circle of light from a table lamp. Who knows whose eyes or stars peek through as blurred circles of light in a dark forest?
Owens does not often do darkness, although the space aliens in her son's fractured fairy tale may have leveled cities. She is more at home with her grandfather's sailboat or the birds and the bees. As the text of one painting puts it, "When you come to the end of your rope, make a knot, and hang on." A cartoon boy and baboon take her advice, happily ignoring the irony. So much LA whimsy can wear quickly, but one can still enjoy the exuberance—not to mention a painting's way of referring to itself and others. Go ahead and feel impassive, but the museum walls have given way.

Michael Hurson ran at Paula Cooper, through December 22, 2017, Cecily Brown through December 2. Laura Owens ran at The Whitney Museum of American Art through February 4, 2018.