Shallow Waters
John Haber
in New York City
David Hockney and Duncan Hannah
An ode to Southern California swimming pools began in the public toilets of London. For David Hockney, they were dark places indeed, but also the start of a career among the glitterati. As a postscript, Duncan Hannah, too, finds himself caught between England and America, Modernism and pleasure.
It makes sense, even if you know Hockney only for painting California sunlight, blue waters, and luxury homes with views to die for. From the start, he had a knack for effacing the borders between public and private spaces. And he took them as the site of both licit and illicit pleasures. A retrospective at The Met follows him for nearly sixty years, as his work grows progressively brighter, more colorful, and more than a step above the underground. It shows the knack for high style that has made him as popular as any artist alive. It also shows him navigating treacherously shallow waters, whether in backyard pools, toilets, or his art.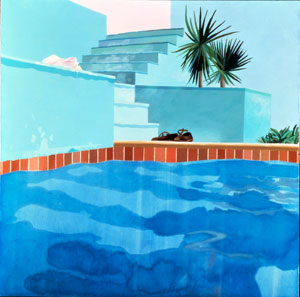 Licit and illicit pleasures
David Hockney made a splash right away, as a student at the Royal College of Art in 1960. He dressed well, painted quickly, and exhibited to acclaim. Yet he started with nothing like pristine waters and wide open spaces. His early paintings border on abstraction, but with text, stains, and broad hint of male bodies. Did he really cruise the toilets of the London underground? I leave that to his biographers, but he had to know men who did, at a time when sex acts could get them all in jail. Besides, even as an artist observing, he could have spotted CUM as a poem on the underground walls and heard whispers of Shame and My Brother Is Only Seventeen—both the titles of paintings.
He also demonstrated his conservative instincts, even on the cutting edge or the edge of the law. A man does the cha-cha against heavy, acrid colors that Americans like Arshile Gorky and Willem de Kooning were learning to leave behind. The first scrawls and splashes owe something to Jackson Pollock, but through the eyes of more cautious English painters in Pollock's wake. Yet they anticipate street art, too, from Jean-Michel Basquiat on, and Hockney has a Pop Art sensibility as well when he converts penises into tubes of Colgate. Like the men dancing or managing to suck one another's toothpaste, he is having fun. This may be dangerous territory, but never once painful or grim.
Hockney will be like that for decades to come, only more so. Born in Yorkshire in 1937, he could stand for the reticence and realism of much British art. He could also stand for the bright lights and shallow pleasures of LA art, starting with his first visit in 1963. He has complained about art's abandonment of tradition since Andy Warhol, much like Robert Hughes. Yet he has sketched Warhol's portrait, and he comes as close as humanly possible to the Andy Warhol of the Hollywood Hills. Not even Warhol's entourage could have matched the crowds at the Met's press preview.
He has been an overtly and courageously gay artist, almost as long as Robert Rauschenberg until his death in 2008. Yet Hockney hardly agonizes over it or anything else, and he is thoroughly at home among patrons straight and gay. His double portraits from around 1970 often become triple or quadruple portraits—like a young couple with a cat or collectors with their totem and Henry Moore. They sit tensely and stiffly apart, like figures out of Francis Bacon, but they are living flamboyantly and well. The artist also places himself squarely among them. When Henry Geldzahler, already a fabled curator at the Met, uses his portrait to contemplate works by Jan Vermeer, Piero della Francesca, Vincent van Gogh, and (I think) Pierre Bonnard, Hockney is laying claim to their company as well.
He is a perpetual experimenter, but always within carefully chosen limits. He depicts himself in 1962 in a car flying headlong through the Alps, and he takes pride in having seen nothing of the scenery. But then he must have seen more than he let on, and he makes up for it ten times over in his vistas ever since. He lines up dozens of small photographs for his mother in front of an English cathedral in 1982, never quite adding up and never quite disrupting the view. He sides with dubious claims of Vermeer's reliance on a camera obscura—not just to investigate optical effects and the nature of vision, but for mechanical tracing. And then he traces the image in a camera obscura for his art.
No other artist can seem as mechanical or as spoiled. He moves easily between his coastal studio in England and the la-la land of "movie studios and beautiful, semi-naked pictures." He never breaks the façade of either one and never once breaks a sweat. He quotes influences from William Hogarth to Paul Cézanne while hardly stopping to take them in. He projects the comforting pleasures of both participant and voyeur. Yet his late work brings Henri Matisse more fully and deliriously into the twenty-first century.
No stop ahead
You may find yourself a voyeur, too, passing quickly from room to room. No matter, for others, too, will be taking in the view. The second room bids farewell to London in more ways than one. It takes him from the closed space of public toilets to that of a stage, with roles for men bathing one another or a hypnotist and his subject. It also takes him on his side trips through the Alps and to the coast of France—before his first move to America. From this point on, his theater offers privileged views of the great outdoors, with just a hint of Modernism in home furnishings and the office buildings of LA.
His pleasures have not changed, but only the pleasured. The bathers become a man in a more luxuriant shower, and the stage set becomes the swimming pools, much as for Michael Hurson. They stay put, but the shower is running, a diver is making another big splash, and sprinklers enact the hissing of summer lawns. They point to painting as a moment in time, and the curators, Ian Alteveer with Meredith Brown, quote his fascination that painting takes so long to capture a moment. It marks his first experiment with point of view, although here temporal rather than spatial. He shows the same interest when he paints a flower on a window sill with a mountain view—a tribute at once to casual interior decor and Japanese art's thoughts on eternity.
The double portraits slow things further, in scrupulously clean surroundings, and then a wall for pencil and watercolor speeds things up. Like so much else, his sketches show little evolution over a good thirty years. They also show little interest in pictorial space or psychology, but interest is building nonetheless. They share a room with the photo assemblies. From this point on, Hockney turns away from people and explicitly gay themes, but he is also looking around. The point of view becomes still more private, but the space starts to extend well beyond a swimming pool.
Hockney attributes his newfound impatience to the Pablo Picasso retrospective at the Met in 1980. He may have found a kindred spirit in Picasso's turn to a playful realism after Cubism. He may have found a kindred spirit, too, in Picasso's sexual exploits late in life. Regardless, his "Very New" (or just VN) paintings of 1992 do more than ever to throw caution to the winds. Foregrounds and backgrounds break in every direction, and their elements approach abstraction. Short verticals could stand for bushes, trees, gravestones, or just color for its own sake.
The newly intense colors settle into orange, red, blue, and green interrupted by dappled fields, for the Grand Canyon and Yorkshire broken across several panels. They also signal fresh attention to van Gogh. So does a long, unsteady view down an endless roadway. The last room brings what he calls his "Matisse colors," twisting along a not quite horizontal porch overlooking an enclosed garden. They recall the red of Matisse's Dance and the scale of Matisse cutouts. They also raise the question of what sets the Frenchman's joy in life apart from LA.
You may not stop to worry all that much over the difference, not in a show like this. Yet Hockney has a far more headlong and satisfied sensibility than Modernism, in a more headlong and satisfied place and time. He has his equivalent of Matisse's scissors in his iPad, on which sketches become animations. (He has also worked with Xerox and fax machines, never afraid of repeating himself.) A photo assembly of the Pacific Coast Highway has no end of warnings of a stop ahead. To his credit and his peril, he ignores them all.
Postscript: tell her no
Who will inherit England—and could it be a middle-aged American man? If the second question sounds laughable, the first was serious enough that a great critic, Lionel Trilling, took it for the subject of a great novel, E. M. Forster's Howard's End. As it happens, Duncan Hannah counts Forster as a touchstone. And his paintings might well belong to Forster's England, to everywhere, and to nowhere, with an assist from the movies. Could it be enough to recover the good old days of painting? Maybe not, but it could expose their dark undercurrents. Hannah has been aiming for both for nearly forty years.
If anything, he is growing closer over time to England, if not quite to Forster's 1910. He calls his recent work "Adrift in the 21st Century," but one might never know that it had set sail. Trompe l'oeil Penguin classics, though not Howard's End, look thoroughly worn in a style that I cannot swear ever made it to the United States. A tea shop has shut its doors, but its successor remains unclear. People loll about by sporty old cars, bike past thoroughly quaint post boxes, or punt on a lake in a suitably picturesque park. Even there, the man has not shed his tie or his companion her heels.
Their morals, too, belong to a past time—before the sexual revolution, second- or third-wave feminism, or the audacity of harassment in Donald J. Trump's America. A man and woman meet furtively at a corner. A still younger man touching an erect woman wearing only a G-string could be groping her, posing her, or confirming her suitability for art. Fashions range from the caps and furs of the age of flappers to the preposterously high hairdos of mods and rockers. One of the latter takes little pleasure in the album covers beside her on the floor. The only legible one is of the Zombies, like a stand-in for Hannah's entire cast.
His very format, easel paintings, seems only right for an amateur painter from a long-gone past. Hannah speaks of his admiration for Edward Hopper and Winslow Homer, and the gallery compares him to Fairfield Porter. Yet their sharp lighting and deep colors have given way to a soft but uneasy glow—and their particulars of cities, seas, and suburban landscapes to a restive nowhere a continent away. The sexual tensions may recall Balthus, but without his columnar forms or iconicity. The figures draw just as much on old commercial illustrations as on fine art, and they seem all the more remote and familiar because of it. Are they, though, strange enough?
One can search for clues in his work from the late 1970s and 1980s. Here nowhere lies more clearly in the movies, but also closer to home. A woman at a window raises her top to expose her breasts, perhaps even to you. A self-portrait looks much like James Dean on a facing wall. A text painting, interrupted by a revolver, has a cryptic narrative suggestive of film noir, but the gun need never go off. Life is dangerous enough as it is.
Hannah feels adrift even then. He assembles receipts and documents from a visit to Paris. The hastier brushwork fits with portraiture from the time, like that of Alice Neel, but with muter colors and an absence of bravura. It, too, refuses a place in the present. Can he ever quite recapture or unsettle painting, despite the stereotypes and soft focus? For now, I shall say yes—even if the Zombies have already answered with "Tell Her No."

David Hockney ran at The Met through February 25, 2018, Duncan Hannah at Invisible-Exports through December 10, 2017, and at Half through December 9. A related review looks at Hockney's claims for technology and the old masters.